Complete lines of Thermally Modified products
ready-to-ship to the Ohio professional builder
Get a quote
Products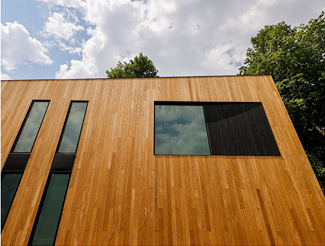 Siding/Cladding
Stunning aesthetic, years of performance
T&G, end-matched, mixed widths, long lengths
Download Siding Specs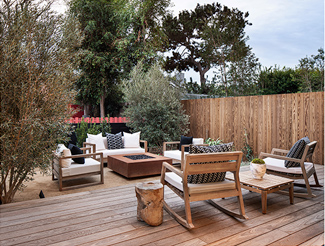 Decking
Exceptional durability for maximum longevity
Mixed widths, 5/4, 4/4, grooved, no-groove, long lengths
Download Decking Specs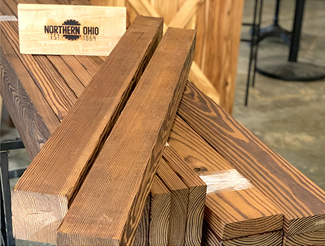 Dimensional Lumber
Best in class quality in various lengths and widths
Fascia/Trim, 1x, 2x, up to 12" widths, including 4x4s, 8'-16'
Download Lumber Specs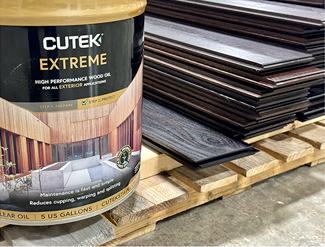 Prefinishing & Fastening
Fasteners, screws, sealer, and more to complete your project
On-site prefinishing, all fastening/installation products
About Arbor Wood
Thermally Modified Lumber is the first durable and truly sustainable North American solid wood resource that performs better and costs less than alternative tropical rainforest species and composite products developed to replace wood. A controlled heat and steam drying process changes both the physical and chemical make-up of the wood, imparting extraordinary durability while preserving solid wood's beauty and authenticity.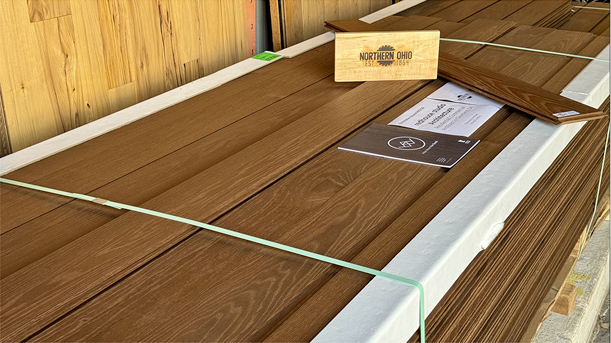 Arbor Wood. For Good
Through Arbor Wood's process, heat and steam replace the chemicals traditionally found in building materials. The micro changes to the material have macro results – increased durability and longevity, which are directly connected to sustainability. Arbor Wood's product has achieved the premier environmental certification, the Declare™ Label Red List Free Certification. This ensures products are free from "worst in class" elements known to pose serious risks to both humans and their environments. Through this commitment, Arbor Wood aims to be a force for good.
Get a quote
CUTEK® Oil
Prefinishing Available
NORTHERN OHIO offers CUTEK® prefinishing services: two coats on all sides of all thermally modified lumber.
Color Change
Thermal modification changes the naturally occurring sugars in the wood resulting in beautiful, rich tones which extend through the full thickness of the material. Since Arbor Wood is still a natural product, the grain and unique characteristics of the wood remain. In an exterior environment, Arbor Wood will move to gray when unfinished and the application of a UV inhibitor helps maintain the original color.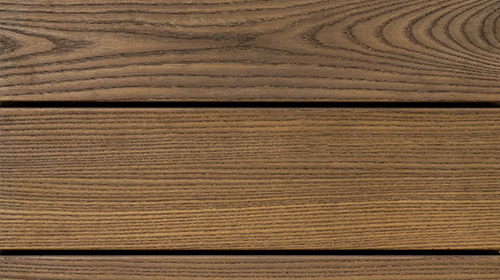 Arbor Wood Ash : Raw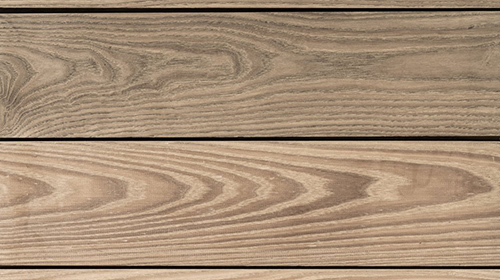 Arbor Wood Ash : Raw - Aged 6-12 mos.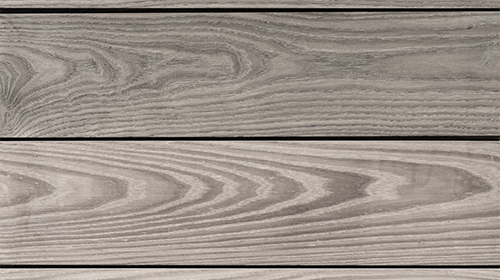 Arbor Wood Ash : Raw - Fully Weathered
FAQS
What is Arbor Wood's thermally modified lumber?
Arbor Wood utilizes a three-phase heat and steam kiln process to fundamentally modify domestically grown and responsibly harvested timber. The end result is a high-quality material that sustains the natural elements of wood without the use of harsh chemicals. Thermally modified lumber has increased stability and durability, an appealing aesthetic, and longevity (an expected lifespan of over 25 years!).
Where can I use thermally modified lumber?
Arbor Wood is suited for indoor and outdoor, commercial and residential applications. This includes decking, siding, cladding, windows, doors, outdoor furniture, and more. Thermally modified lumber should not be used for structural applications. Traditional framing lumber should be used for decks and walls.
What maintenance is necessary for thermally modified lumber?
Without any additional finishes, Arbor Wood is expected to last 25+ years without any signs of degradation, warping, or buckling. A UV coating is recommended if color retention is important to the client. Without a UV coat, the wood will patina to a natural silver.
What are the benefits of thermally modified lumber?
Are you an interested homeowner? Please submit your contractor's information or give us a call at (216) 771-4080.
Looking for more Arbor Wood information?
Visit our Resources page for spec sheets and installation guides.